2016 - May - Summer Radio Fun In The Park
The kickoff for the third year of Summer Radio Fun in the Park was held on Friday, May 27, 2016 in Sister Cities Park and drew about ten hams. A nice group. By my count we had five rigs present, all of which were there more for testing than for making serious contacts. These included a QRP CW setup with a new homebrew filter and antenna, a borrowed vertical loop antenna (it reached a Canadian ham), a couple of recently purchased Hamstick antennas that needed tuning, a digital rig brought by a first-timer who liked what he saw and decided to join our club, and even a $5 CB radio purchased at a recent tailgate (it reached a trucker passing through town on I-40). Many thanks to our more experienced members for sharing their knowledge. By the end of the evening we all went away knowing more about our rigs and with ideas on ways to improve them. I count that as a successful evening. Oh, and the beautiful evening weather and pizza only added to our fun.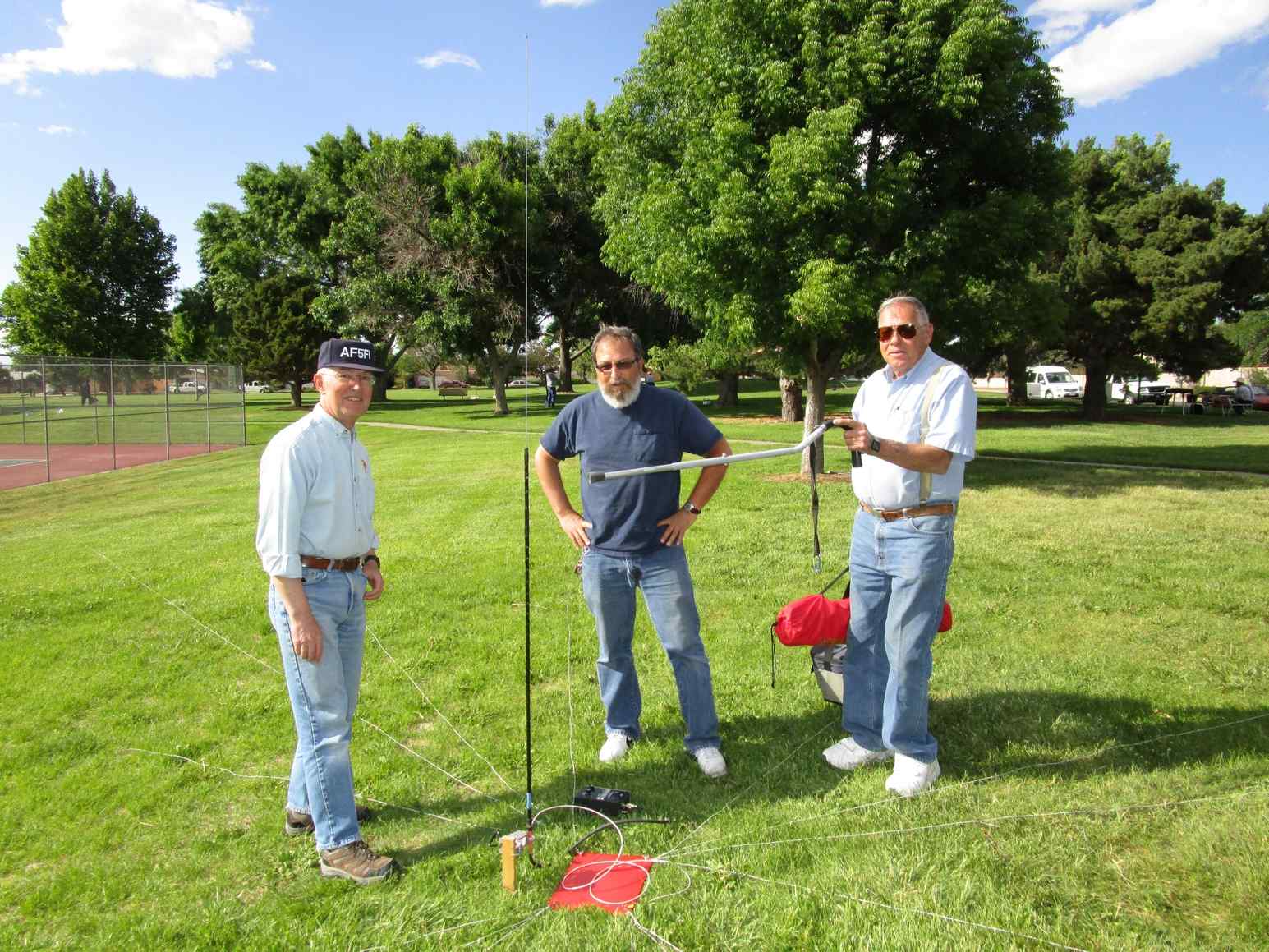 2016 - July - Summer Radio Fun In The Park
The Amateur Radio Caravan Club held it's second of three Summer Radio Fun in the Park activities on Friday evening, July 22nd at Sister Cities Park. The results were rated "modest" because only one person got on the air. The rest of us worked on antenna projects. Terry K7XR set up his CW rig, including his homebrew antenna, and operated for an hour or so. John AC5VB brought his brand new BuddiPole antenna seeking (and getting) help in learning how to tune it. David KE5VSC brought an balky old scanner purchased years before but couldn't get it to work. John N5UVQ tested his initial design of a reel for his antenna radials and found it needed further work. Pete KE5WTM brought his new tripod, mast and MFJ 20-meter "HamTenna" dipole system to be tuned. The initial setting resulted in a frequency too low. After numerous trips between the antenna analyzer and the antenna (great exercise!) to move the stingers into the base, the butt end of the stingers were entering into the loading coil sections of the antennas. This can cause heat damage and since we had no way to cut the stingers while in the park, we quit for the evening. We also had several visitors stop by to watch and learn. By then six pizzas arrived so our attention quickly switched to dinner. Yum! Afterwards, the evening temperature was cooling, we had taken our radio projects as far as we could and we each had full belly so we sat around for some good 'ol ragchewing. A most enjoyable evening!
2016 - August - Summer Radio Fun In The Park
The Amateur Radio Caravan Club hosted its final of three Summer Radio Fun in the Park activities for 2016 on Friday, August 26th. We had about a dozen participants, great summer evening weather and plenty of delicious pizza. Oh, and we got to "play radio" to boot. Terry was there with his CW rig and homebrew vertical antenna, Neall brought his new Mountain Topper QRP CW and backpacker antenna and others just came by to watch, ask questions or to visit. David even brought his metal detector… to see if he could find any lost ham gear in the park?